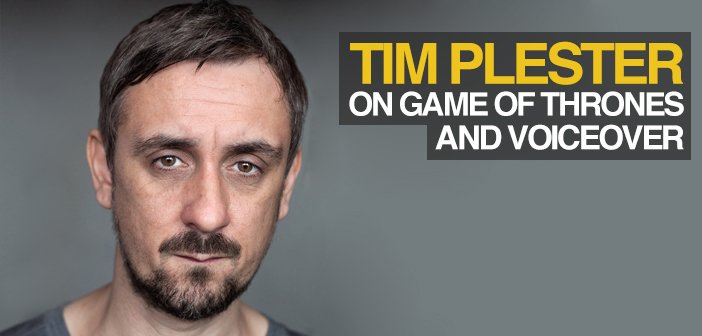 Recently, I caught up with an old friend of mine – stage, screen and voice actor Tim Plester. We talked about his role in Game Of Thrones voiceover ups and downs and how to get ahead using vegetable biryani…! Luckily Peter Dickson was at our table with a video camera so you can watch the whole chat in this video.
Watch The Video
If you're not familiar with Tim's work, he has been in countless European commercials. If I said the number '118' to you brits, you are probably picturing Tim now, dressed in a red and white vest with knee-high socks!  Tim has also appeared in films like Kick-ass and Cuban Fury. In TV, his appearances span from British favourite Dr Who to the enormous international hit Game Of Thrones.
Game Of Thrones
Naturally, I had to ask Tim about his role in Game Of Thrones. Along with most of the population, I'm a huge fan. Tim plays Black Walder Rivers. I was curious to know whether playing a notorious throat-slitter has made a difference to the roles he has been offered since. It seems this brutal role has brought about a change. He says before Game Of Thrones he generally played the person getting killed. Since Game Of Thrones he was offered a part in a film without audition, for a character who slits someone's throat!
Game Of Thrones Voiceover
Predictably, I also wanted to know about all any Game Of Thrones voiceover related stories. I was interested to learn that ADR isn't Tim's favourite thing! Although he has enjoyed plenty of voiceover projects for commercials, he says he lacks confidence doing ADR. It seems to be the disconnect between the feeling of the original delivery (in a cold, muddy field in Northern Ireland six months earlier for instance!) and the quiet, comfortable recording studio that makes it hard for Tim to find the same performance.
This is definitely the tricky thing about ADR. It's a feeling shared by lots of actors I think. However, I was surprised to hear Tim say it because, to my ear, his dialogue in Game of Thrones is seemless. I would never guess he dreaded doing ADR. I guess it's nice to know everyone's human though! Everyone has things they think of as a weak spot.
Tim's Tips!
As well as all the Game Of Thrones voiceover chat, Tim also gave some really great advice. As someone who has worked as an actor on stage and screen as well as a voice artist for 17 years now, Tim has great insight. He told me how he started out in the business. We talked about the way he got an agent. He told me a great story about how curry can be the key to success (twice!).
His experiences back up his advice to 'keep doing stuff'. Essentially, don't wait for things to happen or people to come to you. They might. But if they don't, you don't want to be sitting waiting for the phone to ring. Tim writes, makes his own films and set up a theatre company. That way, he's always doing something even if no-one has asked him to!  You also get experience and a chance to learn on the job.
"I know we all have to pay bills," he says, "but try and always be doing stuff, on whatever level it is."
He makes another great point – you never know whether someone you are working with on a tiny project for no money, might become a director on a TV show in two years time, so always be good to work with.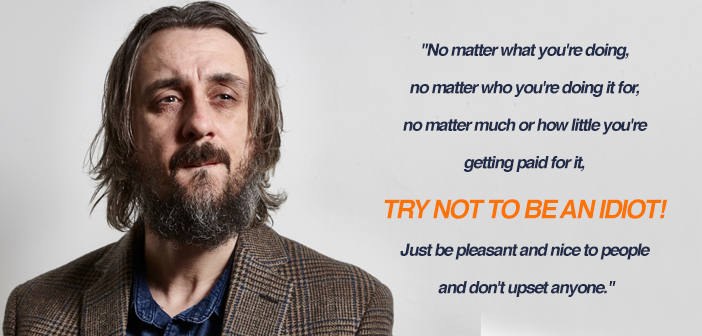 Tim knows this from experience. He's done commercials for directors who have gone on to do feature films and he's got jobs because he was remembered favourably.
Enjoy The Video!
I really hope you enjoy watching the video. I had great fun catching up with Tim and hopefully you can get something out of it. He's a great guy and great at what he does!